Winter 2009
Monday, March 2nd
This past Saturday Steve and Kathryn had myself and some coworkers over for a send-off party. The party involved a considerable amount of alcohol and competitive karaoke, which lead to some very entertaining videos on Facebook. It was a great time and I'll miss my coworkers a great deal.
Sunday we went down to a soup cookoff at Kendall College, where Sei Youn is going to culinary school. We also ran some errands, but mostly took it easy. I'm liking the new car a lot, but I haven't gotten any pictures up because the weather has been crappy and so the car has been constantly dirty since I got it. Once things get a little dryer I'll get it washed and then update the site.
Saturday, February 21st
It's been a busy week, but mostly it was things leading up to the events of Thursday and Friday. Last weekend Matt B came down for the Auto Show, which was cool. There wasn't a ton of new stuff, but we did get to see the GT-R and took a close look at the new A4. I got confirmation that the first of the manual transmission A4s were still a few more weeks out, the initial selection across the country was limited because people had already been reserving them, and it sank in that the price tag for nicely equipped was going to be more than I was really prepared to spend.

As a result of that I tracked down a used 2006 BMW 330xi with a manual, the extended warranty, and most of the snazzy features I wanted up in Madison. My insurance check finally arrived on Tuesday and through several trips to banks I managed to get it into a usable form for purchasing said car. Thursday I drove up after work to get it and had dinner with Mike before coming home. It's really nice, and while BMW wasn't my first choice I'm very pleased with it. It will take a little getting used to but I think it's a good choice.

Friday afternoon was the other big event, because I put in my two weeks notice. I haven't been discussing it here because I didn't want to disclose it prematurely, but I had a couple of interviews and accepted an offer for a new job downtown. I'm really excited about it, I'll get to take the train to work, and they'll pay more. Ironically this followed Wednesday when I received my ten year service award at work.

Finally, yesterday evening we drove up to Milwaukee for Eriq and Ian's Ice Cream Social. We met up with a lot of friends and had a good time socializing and eating ice cream, before driving back late last night. The last month has been really stressful, with the car accident, the job change, buying a car, wedding planning, Sarah's car problems, and my grandmother passing away. I hope that March will be a little less intense because I could stand to have a little less going on.
Thursday, February 12th
My Grandmother died, and everything else faded to gray. When you pull back the drapes and the sun blinds you, for a moment you can't see anything else in the room. The range of brightness and darkness you were seeing before has been overwhelmed by an order of magnitude. The struggles with Sarah's car, the insurance company delays with the accident, the work stress and all the other things going on in my life lost their significance in an instant. I found out Friday afternoon and the funeral was yesterday. Tuesday I got some good news, but it still felt pale in comparison.

The other things that have been going on are still there and I still need to deal with them. Last weekend we went to the bike show and then to a nice restaurant for dinner. I got the bike started and we took it around the block and got some gas for it. I hadn't put the stabilizer into the gas tank until last month so it was a little reluctant, but it ran much better once I'd topped it off with some premium to burn off the sludge of winter. Of course the weather is getting cold again, so it'll probably be short-lived, but ti was nice to take it out either way.

I still haven't decided what to do about my car, but I don't have a check from the insurance company yet anyway. Sarah's car wouldn't take a jump so we had to have it towed to the dealer, where they tried to claim the distributor wasn't covered under warranty. It took Sarah multiple calls to Hyundai to get the dealer to finally submit. We got the car back and it still sounds terrible, so we'll see how long it runs.

My brother-in-law Tom rode back with me from the funeral yesterday and spent the night with us last night. I dropped him off at the airport this morning on my way to work. They're going to be moving to New Hampshire sometime in the next several months so I may not be driving to Minnesota for the holidays anymore. It was good to see all my family yesterday. It was a sad day, but I saw some relatives I haven't seen in years.
Monday, February 2nd
Car adventures continue! After Sarah's car didn't make it all the way to the Dells last weekend and we got it fixed in Roscoe, IL, we thought it was at least road-worthy. Granted, it had a shaking problem at around 70mph, but it's probably just a wheel balance and manageable. Well, this past Saturday we were driving up to Eriq's for the Twin Peaks marathon. Shortly after getting on the freeway we discovered that the wheel problem had moved down to about 60mph. Worse, the engine was making some disgruntled noises that are kind of hard to describe, but which I suspect are related to the just-replaced alternator not putting out enough juice. So, we turned back, making a few stops along the way to do some grocery shopping and to test drive a Subaru Legacy.

Sunday I wasn't feeling very well, but Sarah was planning on going to go to her friends' Superbowl party. Matt B came down so we could go see Defiance which we'd been planning to see since November. Sarah found that her car sounded even worse and didn't think she'd even be able to make it to Morton Grove, where her friend lives. So she came to the movie with us.

This morning we were setting off for Enterprise to get me another rental since I still don't have a check from the insurance company, and found that the car now would not even start. So, we walked to Enterprise and I took Sarah to work. Tonight we'll try jumping it so that hopefully we can limp it over to the dealer.

Meanwhile I'm debating my car buying decision. We discovered that the new manual Audi A4 won't be available until probably March or April, that the options I want in the Legacy require the bigger engine with worse mileage, and that the payout number I got back from my insurance is about three grand less than I'd hoped for. I'm still waiting to hear back from the other insurance company.
Monday, January 26th
Well, it's been an interesting past few days. Mike and I have been working on our iPhone application, trying to get it finished and launched. Wednesday night as I was switching over to the MacBook so I could get some work done, it locked up and wouldn't boot up afterwards. It appears that the hard drive has crashed. I scheduled an appointment at the Apple Store for Thursday afternoon. Thursday afternoon I left from home to go to the Apple Store as well as run some errands for our trip to the Dells. As I was driving towards Old Orchard Mall on Golf in the right lane, I passed a car in the left lane turning right. As I did so, a Cadillac pulled across the street immediately in front of me. Before I had a chance to react, I hit his front quarter panel head on. The impact swung his car alongside mine before his back end hit my rear drivers side and sent us both into opposite sides of the road. I wound up in a snowbank and the Cadillac stopped in a driveway. My front and side airbags went off when I hit him, so I didn't actually see this happen. The results were not pretty.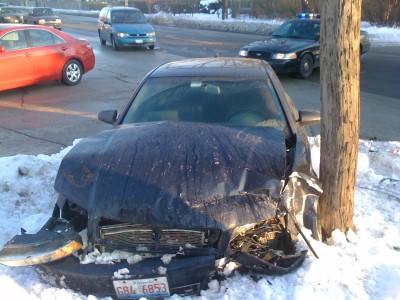 I was mostly uninjured save a nasty bruise on my arm, but the other driver wasn't wearing a seat belt and was taken to the hospital. Sarah came and took me home, and we went back out to run the errands I had not finished, though the MacBook remains unrepaired.

Friday morning I took Sarah's Hyundai to get the oil changed since it had been making some unhappy sounds. We set off for the Wisconsin Dells, but got stuck in traffic north of Rockford and got off the freeway to go around. It was a good thing we did because her car started acting up and the check engine light started blinking. We made it to an auto shop and after a couple of hours waiting for parts, we got the spark plugs and wires replaced. The car now running much better, we made it the rest of the way up to Chula Vista, where we spent the weekend with my family at the waterpark and seeing my niece Erika perform in a gymnastics meet. We got back Sunday night and I'm working from home today as I still don't have a car.

Supposedly I'll be getting a call today from one or both of the insurance companies after they take a look at the car. I expect it to be totalled and I'll find myself car shopping in the near future, but we'll have to wait and see.
Sunday, January 4th
I come now to the close of my vacation. I've been off work since Christmas and it's been really nice. Mike and I made a lot of progress on our iPhone application development, we saw Sarah's family Christmas Day and watched my holiday favorite, National Lampoon's Christmas Vacation.

For New Years we drove up to Milwaukee and attended Eriq's party, which was a lot of fun. It was also a chance to reaffirm our tradition of making a toast to the New Year that has pinned to it our hopes and dreams. 2009 looks to be an event-filled year by any measure, so I'm hoping the all of those events turn out positively.

Other than coding, I've also been playing Metroid Prime: Corruption, which Sarah got me for Christmas, and we've been brewing coffee in our new press pot. I've never been big on making my own coffee, opting to get it from diners and family restaurants, but the press pot is something else altogether. I'm sticking with tea for my favorite daily drink, though.

Anyway, that's about all I have to report in the last couple of weeks. I hope all the readers of this site had a great holiday and have a great new year.