About the Author
Last updated: December 5th, 2011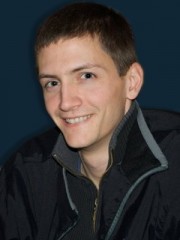 I was born in 1979, and grew up in Crown Point, Indiana. I had an interest in writing, technology, the future, and computers from an early age. I studied BASIC in a summer class at Purdue Calumet at age eight, though we didn't have a computer at home until I moved with my mom to the Milwaukee area when I was thirteen.
In high school I spent time programming my TI-82 calculator, creating games and programs to help me in physics class. I was involved in cross-country, ComedySportz, the school newspaper Pioneer Outlook, and Channel 3B, the educational access cable station. I met some of my best friends at the Channel, and learned a lot about video, computers, and who I am. From that experience I got a job working for a local computer company, and while it didn't pay well it taught me a lot.
I went to the University of Wisconsin Milwaukee for a couple semesters, planning to go into architecture, before I realized it wasn't what I wanted to do with my life. I got a job at a computer consulting agency before winding up at U.S. Cellular. I worked in the IS department for ten years, moving to Chicago in 2005. In 2009 I got a job with Sidley Austin LLP. Here I am responsible for Altiris administration, and software repackaging and delivery.
In 2005 I met Sarah and we got married four years later, almost to the day. We bought a house in Logan Square, and we just had a baby, Derek. We keep busy with friends and family, slowly remodeling our house and helping friends with theirs, as well as travelling and camping as often as we can.
I've always loved technology and computers. I've used every version of Microsoft Windows from 3.0 through 2008, plus several BSD and Linux flavors, and some more obscure OSs like Amiga, OS/2, and Be. I work with a long list of abbreviated technologies including ADSI, LDAP, MSI, WMI, VBS, WSH, a lot of SQL, ADO, NS, VPN, RDP, ICA, and many more. At home I focus more on HTML, CSS, SQL, PHP, and Objective C.
In the end, my goal is unchanged from the start. I want to spend my time designing intelligent, fresh, and inspiring creations. I want to be successful enough to work because I want to, not because I have to. I want to design and build my dream home in the woods, travel the world, and write science fiction novels. I want to make a difference in the world with my ideas, and share my life with friends and family.
Personal Data
Location
Chicago, Illinois
Occupation
Desktop Engineer for Sidley Austin LLP
Car
2012 Subaru Impreza Sport Limited
Motorcycle
2008 Kawasaki Ninja 650R
Computer
Intel Core i7 950
Phone
Favorite Beverage